Whole Wheat Hardo Bread Stuffing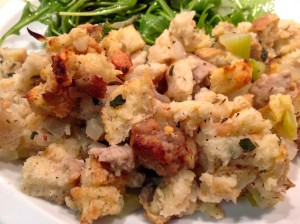 In this recipe we take the ingredients of a traditional bread stuffing and make it into a wonderful tropical vegan side dish that can be enjoyed any time of year.

Ingredients:
1 pound whole wheat hardo bread cut into one inch cubes
¾ pound margarine (earth balance or similar quality)
1 large onion chopped
3 stalks celery chopped
1 tsp dried sage
2 tbsp fresh rosemary
1 teaspoon garlic powder
1 cup vegetable stock
½ cup raw cashew
1/3 cup finely sliced Tommy Atkins or Hayden mango
Salt and pepper to taste
Directions:
Place cashews in dry hot saucepan and roast. Be careful to remove them from heat before they become too dark. Put aside. Melt margarine in a dutch oven and saute onion and celery until soft. Add rosemary sage, garlic powder and sautee for two minutes. Add bread and cashew nuts and moisten with vegetable stock. Place in a margarine greased baking dish and cook covered at 350 degrees F for 40 -45 minutes. Remove from heat. Mix in the mango slices just before serving.
Sign up for our Mailing List