Veggie Mince Balls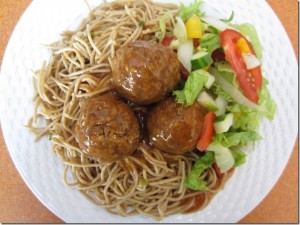 These veggie mince balls are fantastic to have with spaghetti but are also a great lunch or dinner option with salad or extra veggies.
Ingredients
1 cup TVP (veggie mince)
1 teaspoon vegetable stock
1 cup hot water
2 tablespoons tomato sauce
1 tablespoon soy sauce
1/4 onion, finely diced
1 clove garlic, crushed
1 teaspoon each of black pepper, Italian seasoning, salt
1  cup breadcrumbs
2 tablespoons flour
cornflour for rolling
Directions:
Preheat the oven to 360 F.  In a large non-metallic bowl add the TVP, stock, water, sauces, onion, garlic and spices.  Stir to mix and allow to cool until it is room temperature.  When cool, add the breadcrumbs and flour and stir.  Roll tablespoon-full amounts of soy mince into balls and coat with cornflour.  Place on a foil covered baking sheet and cook for 20 minutes or until brown.   Remove from oven and tent with foil to stay warm.  Meanwhile, cook some pasta and make a rich tomato sauce to pour over the top.  Makes about 16 veggie balls.
Sign up for our Mailing List