Scrambled Tofu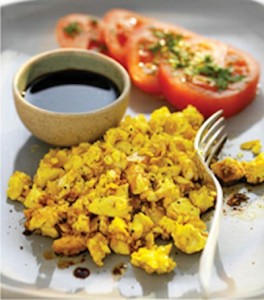 Tasty and nutritious on its own with thick slices of good whole wheat bread, this dish is even better accompanied by luscious fried tomatoes, hash browns, and maybe even some vegan sausages.
Ingredients:
1 (14-oz.) package firm tofu
1 tbsp. vegetable oil
1 small onion, chopped
1 clove garlic, minced
1 tsp. powdered turmeric
1–2 tbsp. soy sauce
black pepper
Drain the tofu and crumble it with your hands into a bowl. Heat the oil in a skillet over a medium heat and gently fry the onion and garlic until softened, 4–5 minutes. Add the turmeric, then stir in the tofu.

Variations:
Mediterranean scrambled tofu
Prepare the basic recipe, adding 1/2 zucchini, 1/2 red bell pepper, and 1/2 green bell pepper with the onion, and 1/2 teaspoon dried Italian herbs in place of the turmeric.

Mexican scrambled tofu with frijoles
Prepare the basic recipe, adding 1 chopped green chile with the onion and 1 peeled and chopped tomato with the turmeric. Serve with refried beans.

Scrambled tofu forestière
Prepare the basic recipe, adding 1 cup sliced mushrooms and 1/2 teaspoon thyme to the softened onion, and frying until mushrooms have cooked.
Sunshine breakfast pocket
Prepare the basic recipe. Divide it between 4 split pita bread pockets along with sliced tomato and alfalfa sprouts.
Sign up for our Mailing List