Mayo From The Heavens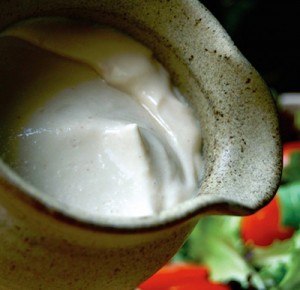 Mayo From The Heavens makes about 1½ cups (375 ml). This is the best vegan mayo dressing ever! In fact, it's the best mayo ever, period—vegan or not. It's rich and creamy, but without the excess fat of most ready-made brands. It can be used as a spread on sandwiches and burgers, or you can make a thinner version to use as a dressing for salad and coleslaw—either way, it is truly awesome.
Ingredients:
3 Tbsp (45 mL) tahini
2 Tbsp (30 mL) maple or agave syrup
1 Tbsp (15 mL) flaxseed oil
½ tsp (2 mL) hot prepared mustard
3–4 Tbsp (45–60 mL) apple cider vinegar
¾ cup (185 mL) firm silken tofu
¼ tsp (1 mL) smoked paprika salt to taste
1. Place the tahini, maple syrup, flaxseed oil, mustard and half the vinegar in a small bowl or glass jar, and mix with a teaspoon into a thick paste.
2. Pour the mixture into a medium bowl and add the remaining ingredients.
3. Using a handheld immersion blender, blend until completely smooth. Taste and add more salt and vinegar, if needed.
4. Store in a covered jar in the refrigerator for up to 3 days.
NOTE: To use as a dressing, add a little extra cold water at the end, a little at a time, mixing vigorously with a fork, until the mixture reaches the consistency you desire.
Sign up for our Mailing List