Indian Cauliflower Fritters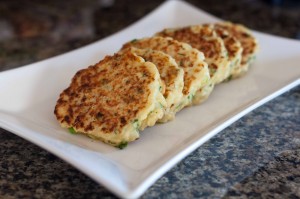 Deep-frying requires an oil that has a high smoking point. Once an oil 'smokes' then it becomes a carcinogen. Choose rice bran, safflower, organic peanut or sunflower oil for the best possible result.
Ingredients:
4 cups cauliflower florets, cut into small pieces
1 cup water
1 small onion, diced
1 tbsp coriander stems, finely chopped
2 tbsp olive oil or rice bran oil
1 tbsp grated ginger
2 garlic cloves, crushed
2 tsp each of ground cumin, turmeric and garam masala
2 cups flour (brown rice, fine polenta or besan)
½ tbsp sea salt, or to taste
2 zucchini, grated and squeezed dry
4 eggs
1 cup coriander leaves, plus extra to garnish
2 cups sunflower oil, for deep-frying
Lime wedges
Put the cauliflower and water in a large saucepan and simmer (or steam) until the cauliflower becomes very soft; this will take about 20 minutes. Drain in a colander and using the back of a spoon, push out any excess water. Set aside to drain until you're ready to use it.
In a large frying pan over medium heat, sauté the onion and coriander stems in the olive or rice bran oil until the onion is translucent. Add the ginger and garlic and stir for a few seconds. Stir in the spices and cook until they become fragrant and start to stick to the base of the pan. Remove from the heat and set aside.
Combine the flour, salt, zucchini and cauliflower in a bowl and stir well. Add the onion and spice mixture and stir again. Finish off by adding the eggs and coriander leaves. Give the mixture a good mix and leave in the fridge for 30 minutes or so if you can. (Not essential.)
Heat the oil in a large heavy-based saucepan over medium heat. Test the oil by dropping in a tiny bit of the mixture – it should start to gently fry. Don't have the oil too hot – it shouldn't smoke.
Using two dessertspoons, drop 1 tablespoon of the cauliflower mixture per fritter into the hot oil. Cook in batches. Let them turn golden brown, then flip. Remove the fritters with a slotted spoon and drain them on paper towel.
Garnish the fritters with extra coriander leaves and the lime wedges
Yield: About 16
Sign up for our Mailing List