Happy Milk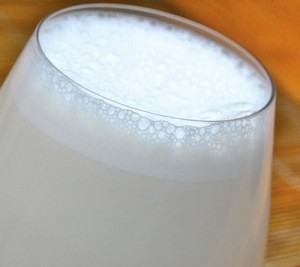 Makes 4 cups (1 L).  This has got to be one of the best vegan milks ever.  It's white as snow, smooth, creamy, nutritious and, of course, cholesterol and cruelty-free. Drink it as is with crushed ice, or use in smoothies and milkshakes or as a milk substitute in any recipe. You can also make a luscious cream substitute by using half the amount of water (see below).
Ingredients:
just under ⅔ cup (160 mL) whole cashews, plus water to cover
3 cups (750 mL) cold water
2 tsp (10 mL) agave or maple syrup
1. Place the cashews in a bowl and cover with water. Cover the bowl and leave to soak for a couple of hours in the fridge, or overnight if you wish.
2. Drain the nuts and place them in a food processor with 1 cup (250 mL) of the water. Process for a minute or so.
3. Add the agave and the second cup (250 mL) of water, and process for another 30 seconds.
4. Add the last cup of water, and process for 1–2 minutes.
5. Pour into a jug with a lid and refrigerate, or serve immediately over crushed ice.
6. Use as you would any other nondairy milk. It will stay fresh in the refrigerator for 3–4 days.
VARIATION: HAPPY CREAM:  Follow the recipe as directed, except use only 1½ cups (375 mL) water when processing. This makes a rich, thick liquid suitable for any recipes (savory or sweet) that call for cream.
Sign up for our Mailing List