Grilled Jerk Tofu with Sorrel Sauce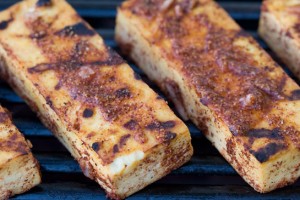 When preparing tofu it is important to keep a few things in mind. Tofu can be quite bland if it isn't handled and prepared properly. Tofu is normally purchased packaged in brine.   Remove the tofu from the package and slice into half inch pieces. Place slices between sheets of kitchen towel and with your hand or a heavy object, press down until as much liquid as possible has been removed from the tofu.  By doing this the tofu will absorb the flavors of whatever marinade that you have chosen.  Marinate tofu for at least 8 hours or overnight for best results.
The second important technique in the preparation of tofu is how it is cooked. Tofu needs to be caramelized to bring out the best flavor and texture. This can be done by either frying on a medium high heat until a crust is formed or in the case of this recipe grilled on an open flame until charred. This will make the tofu firm, chewy and delicious!
Ingredients:
Jerk Seasoning
2 bunches of scallion
1 head of garlic
½ cup brown sugar
3-4 green scotch bonnet peppers
½ cup ground allspice (pimento)
2-3 tablespoons fresh thyme
1 tsp cinnamon
1/ teaspoon nutmeg
2 tablespoons soy sauce or Braggs Aminos
Salt and fresh ground black pepper to taste
Directions:
Put all the above ingredients in a blender or food processor and blend until smooth.
Place a layer of jerk seasoning on the bottom of a medium sized square baking dish or pan and then place a layer of the prepared tofu (see above) on top. Pour some sauce evenly over the layer of tofu and continue layering until tofu is covered in seasoning mix. Cover dish with plastic wrap and place in refrigerator overnight.
Remove tofu from dish, scrape off any excess marinade and brush with cooking oil. Place on hot grill or barbeque and cook until dark grill marks appear.

Sorrel Sauce
1 cup or 1 300 ml bottle of Sorrel Juice
½ stem of ginger
1 tablespoon cornstarch
60 ml of water.
Bring sorrel juice and crushed ginger to a boil for 5 minutes. Strain and return to the pan. Make a slurry with the cornstarch and water and add to the sorrel. Stir over medium heat until the mixture thickens.
Sign up for our Mailing List