Coconut Flan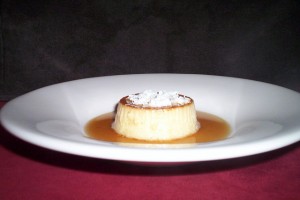 The classic caramel-sauced custard of Spain and Latin America is usually made with milk or cream and plenty of egg yolks. This version is creamy, rich, and sweet but dairy-free, thanks to coconut milk, tofu, and gelatin. For best results, use full-fat (not light) coconut milk. You can also add ½ cup shredded coconut to the custard, which will sacrifice the flan's smoothness but does add some chew and intensifies the flavor.


Ingredients:
½ cup plus 2 tablespoons sugar
One 14-ounce can coconut milk
1 tablespoon unflavored gelatin
½ cup soft silken tofu
1 tablespoon vanilla extract
Pinch of salt
Directions:
1. Put ½ cup sugar and ½ cup water in a small, heavy saucepan. Turn the heat to medium-low and cook, shaking the pan occasionally (it's best not to stir), until the sugar liquefies, turns clear, then turns golden brown, about 20 minutes. Immediately pour the caramel into the bottom of a medium glass bowl or gratin dish, or four 6-ounce ramekins.
2. Put the coconut milk in a medium saucepan and sprinkle the gelatin over it; let sit for 5 minutes. Turn the heat to low and cook, stirring, until the gelatin dissolves completely.
3. Put the tofu, vanilla, salt, and remaining 2 tablespoons sugar in a blender or food processor and purée. Add the coconut milk mixture and blend until smooth. Pour the custard into the prepared bowl or ramekins and transfer to the refrigerator.
4. Chill until set, at least 4 hours or up to 24 hours. Serve the flan from the bowl (with a big spoon for scooping out the caramel) or ramekins; or dip the bottom of the vessel(s) in hot water for about 10 seconds, run a thin knife all the way around the edge, then invert onto plates, scraping the sauce over all.
Yield: 4 servings
Sign up for our Mailing List