Coconut Curry Carrot Soup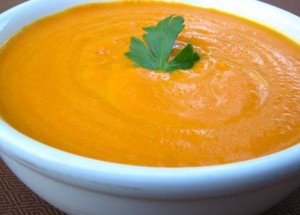 Cream-based soups need not be off-limits on a vegan diet. Coconut milk is not only creamy and delicious, but it also contains lauric acid, which has been shown to promote brain development and bone health.
Ingredients:
2 cups (470 ml) vegetable broth
1 can (14 ounces, or 414 ml) coconut milk
1 pound (455 g) peeled carrots
1 tablespoon (6 g) yellow curry powder
1 tablespoon (15 g) minced garlic
Salt and pepper, to taste

Add all the ingredients to a pot and bring to a boil. Reduce to a simmer and simmer until the carrots are nice and tender, about 10 minutes. Using an immersion or a countertop blender, purée until smooth.
Yield: 5 servings
NOTE
If using a countertop blender, let the soup cool slightly before puréeing, so as to avoid a hot-liquid explosion.
Sign up for our Mailing List