Chocolate Chunk Oatmeal Cookies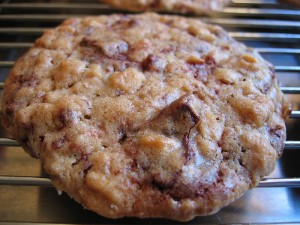 Almost, but not quite, classic. This recipe will give you a rich-tasting, chewy, not-too-sweet treat. If you prefer a sweeter cookie, increase the brown sugar to ¾ cup.
Ingredients:
½ cup vegetable oil or vegan butter, softened, or a combination
½ cup sugar
½ cup brown sugar
¼ cup applesauce
¾ cup whole wheat flour
¾ cup all-purpose flour
2 cups rolled oats
½ cup chopped walnuts or pecans
Pinch of salt
2 teaspoons baking powder
½ cup almond milk, rice milk or oat milk
½ teaspoon vanilla extract
4 ounces vegan bittersweet chocolate, broken into small chunks
Directions:
1. Heat the oven to 375°F. Use an electric mixer to cream the oil or butter and the sugars together; add the applesauce or eggs and beat until well blended.
2. Combine the flours, oats, nuts, salt, and baking powder in a bowl. Alternating with the milk, add the dry ingredients to the sugar mixture by hand, a little at a time, stirring to blend. Stir in the vanilla, then the chocolate chunks.
3. Put teaspoon-size mounds of dough about 3 inches apart on ungreased baking sheets. Bake until lightly browned, 10 to 12 minutes. Cool for about 2 minutes on the sheets, then use a spatula to transfer the cookies to a wire rack to finish cooling. Store in a tightly covered container at room temperature for no more than a day or 2.
Yield: About 3 dozen

Sign up for our Mailing List