Braised Seitan with Mixed Herbs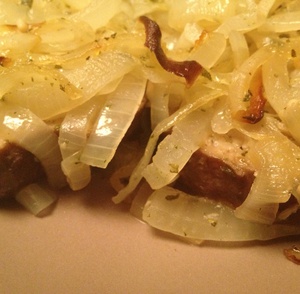 Seitan or Veggie Steak, also known in Chinese cooking as mock ham is an extremely versatile vegetable protein made from wheat gluten. This simple recipe can be used around holiday time as a substitute for both ham or turkey sure to be enjoyed by vegetarians and non-vegetarians alike.
Ingredients: 
2 lbs unflavored seitan cut into half inch thick slices
2 tbsp fresh rosemary finely chopped
2 tsp dried sage
2 tbsp fresh thyme finely chopped
2 large onions cut into slices
4-5 cloves of garlic finely chopped
2 cups vegetable stock
4 tbsp Olive Oil
Salt and pepper to taste
Directions:
Heat oil on a medium low heat. Add onion and herbs and saute on low heat until onions become translucent. Add garlic and cook for two minutes longer. Remove from heat. Layer a 9×13 baking dish with onion mixture and then place slices of seitan in a layer on top of onions. Cover the seitan with the remaining onion mixture. Pour vegetable stock over layers until just covered and place into a preheated oven at 350 degrees until liquid is absorbed.
Serve with cranberry sauce or sorrel chutney.
Sign up for our Mailing List