Banana Bread Muffins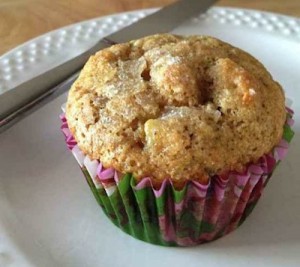 These delicious muffins are such a nice treat on weekday mornings and weekend brunches alike, and they're gluten-free, vegan, and super easy to make as an added bonus. Loaded with banana flavor, you'd never know that these melt-in-your-mouth muffins are good for you, too!
Yield:
12-18 Standard Size Muffins
Ingredients:
2 Cup Whole Wheat Flour
1 1/2 tsp Baking Soda
1/2 tsp Salt
2 Tb Ground Flaxseeds
1 Cup Granulated Sugar
1/3 Cup Safflower or Canola Oil
4 Ripe Bananas mashed (use bananas with brown spots on the peel for rich flavor & moisture)
1/4 cup Water
1 tsp Vanilla
Sugar for Sprinkling
Directions:
1 – Preheat the oven to 350F and line or spray 12 muffins tins.
2 – In a medium bowl combine the flour, baking soda, salt, and ground flaxseeds.
3 – In a large bowl beat together the oil and sugar until it resembles wet sand. Add the mashed bananas, water, and vanilla and mix well.
4 – Add the dry ingredients to the wet and stir until just until combined (do not over mix).
5 – Fill the muffin tins 3/4 full and sprinkle the tops with sugar if desired.
6 – Bake for 18-25 minutes until the muffins have risen and the tops are turning golden.
7 – Remove from the oven and let sit for 3 minutes then use a fork to pop the muffins out of the tins and cool completely on a wire rack.
Sign up for our Mailing List